Product Description
Transformer enameled copper wire for motor
Enameled copper wire for transformer and motor and electronics.It has high thermal properties and good chemical resistance . Winding wire passed the standards of international rulers.it has such sizes of products.
Widely used in household appliance, precision electronics, the telecommunications equipment, instrument,electrical machine.electrical machine that require high thermal resistance, electrical instrumentation, electric tool.Power dry-type transformer winding,etc.
| | |
| --- | --- |
| Conductor | Copper |
| Dimension | Diameter(mm): 0.31-3.00 |
| Thermal Class(℃) | 180(Class H) |
| Standard | IEC; ISO 9000; ISO 9001; IATF 16949 |
| Packing | PT 60/90/200 or Wooden spool and customized |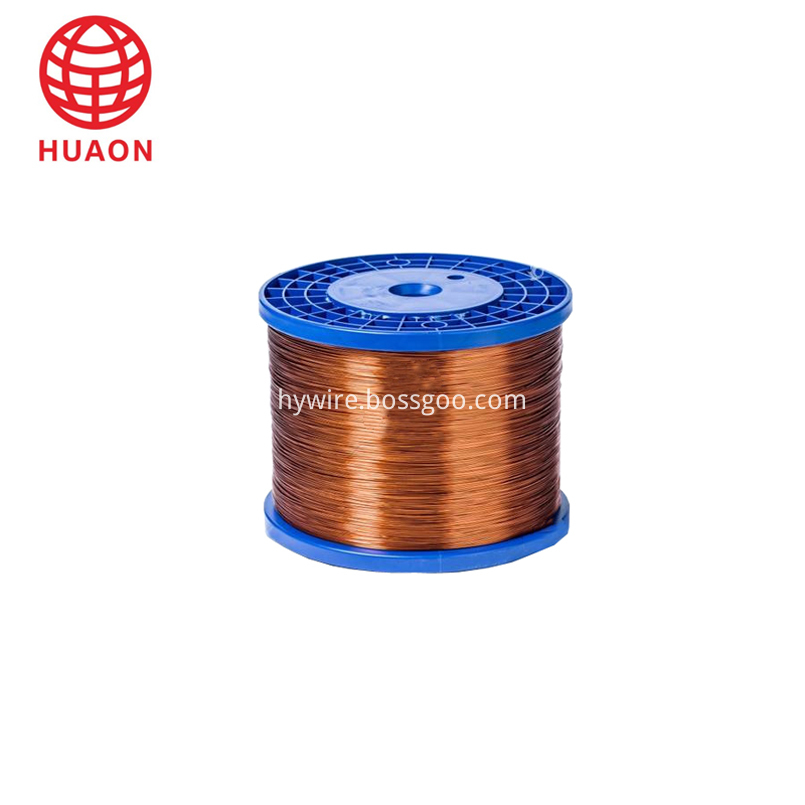 Henan Huayang Copper Group is the first enterprises manufacturing winding wire in Henan Province. Main products include PEW enameled copper wire, EIW enameled copper (Aluminium) wire, EI/AIW enameled copper (Aluminium) wire, EIW/A enameled copper wire,Enameled and glass-fiber copper (Aluminium)wire, Paper Covered wire, Glass fiber wire, Film Covered Wire, Bare Wire, Corona Resistance enameled Round Copper Wire and Copper Accessories (Plastic Spool, insulating paint and Cable wire ).
Group insist the ``quality and efficiency`` principle, in accordance with the ``Made in China 2025`` and China the 13th Five-year Plan to make the Group 2016-2020 the Third Five-year Development Plan. Make efforts to enhance science and technology innovation and product R&D capability. Strengthen the investment for new product R&D. Facing the well-known electrical equipment manufacturing enterprises to realize ``change for manufacturing to create``. Brand position is ``different fields to implement a dedicated, exclusively for the product``. Market positioning is ``Stabilize the end user, develop the high-end user``. Corporate positioning is ``internet + trade + production``. Improve management and technical level. To ensure product quality, create brand and corporate culture. Do the leading manufacturer of winding wire in the industry.
We have imported machine to protect the quality of enameled wire. the kind of production process has checked staff. our enameled copper or aluminium wire through 8 steps process to be finished products.
Raw Material:Copper rod or Aluminium

Drawing Rolling :Convert 12.5 mm or 8 mm size of copper rod to size of clients' requirement.

Annealing:Heat resistance

Japanning: Painting the copper conductor.

Finished Products :Copper or aluminum wire

Detection:check the quality of finished products through the machine.

Packing :PT25/60/90/200 or others

Shipping :Container
Our enameled aluminum or copper wire apply to Motor, transformer, mutual inductor, automotive electrical, rotor,handiwork and so on.According to design of motor, transformer and high-speed winding machine, PEW product has the advantages of good paint film continuity, good flexibility and adhesion. high surface strength. breakdown voltage is increased by 60% compared with national standard. Suitable for manual and automatic winding machine .
Normal Packing :
Plastic bobbin (PT25 / PT60 / PT90 / PT200)+Carton+Pallet /
Wooden box
Wooden spool (250*500/250*400/250*600 )+Wooden box
Also can need clients' requirements.

1) Free samples are available.(100-150 cm is free.)
2) Price depends on the size of clients' order and excellent quality.
3) Advanced Technology & Management with senior professional team.
4) Strong production ability and shipment on-time.
5) Supply you nice after-sale service & technical guidance.
6) we can customize cartons, wallpapers and labels according to customer requirements.
7) fast and economical delivery
8) professional after-sale service