Product Description
High Quality Bare Wire Copper Factory Price
High Quality Bare Wire Copper Factory Price with the high conductivity and magneto conductivity of copper, high strength of steel, bending and tin`s thermal conductivity, corrosion resistance, and oxidation resistance at high temperatures.
Each Bare Copper Stranded wire is fabricated using 99.97% pure, electrolytic grade, bright-annealed bare copper with more than 100% conductivity. Copper guarantees higher percentage of electrical energy saving which eventually helps in reducing the electricity bills. The conductor is made of multiple strands of finely drawn copper wires thereby offering greater flexibility, which makes these wires ideal for conduit wiring.
Used For Transformer
for motor, transformer winding, modern instrument, Generator, welding machine and so on.
Conductor

Copper

Dimension(mm)

Rectangular: Thickness(a): 0.90 ~ 5.60

Width(b): 3.15 ~ 16.00

Standard

GB;

Packing

160kg~180kg ply-wood spool(250*500; 250*600)

Application

Suitable for manufacturing electric motors, windings of electrical equipment, automobile electrical rotors, installation and distribution equipment and other electrical fields.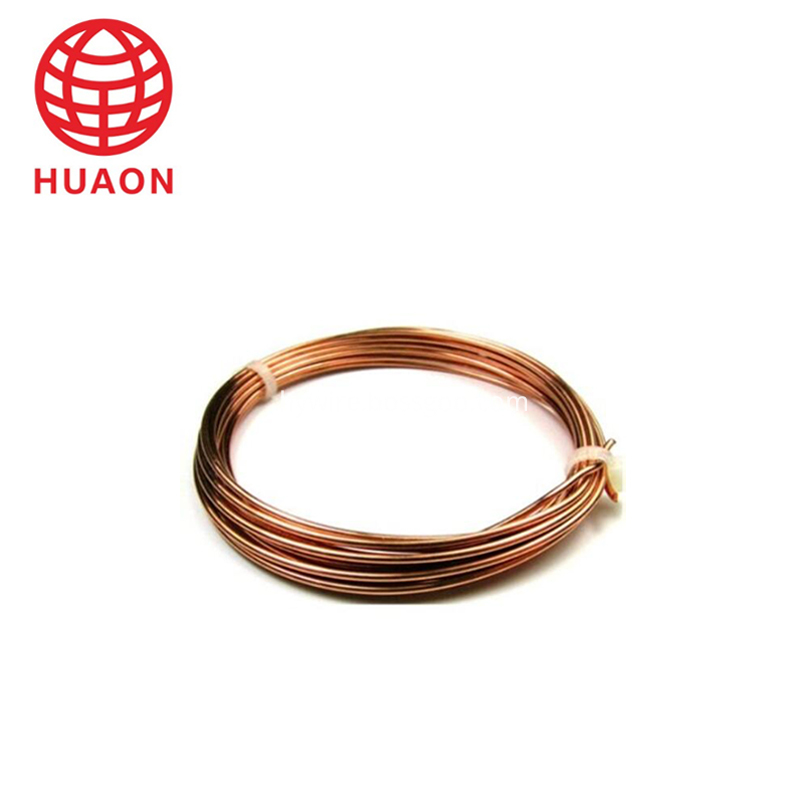 Henan Huayang Copper Group is the first enterprises manufacturing winding wire in Henan Province. Main products include PEW enameled copper wire, EIW enameled copper (Aluminium) wire, EI/AIW enameled copper (Aluminium) wire, EIW/A enameled copper wire,Enameled and glass-fiber copper (Aluminium)wire, Paper Covered wire, Glass fiber wire, Film Covered Wire, Bare Wire, Corona Resistance enameled Round Copper Wire and Copper Accessories (Plastic Spool, insulating paint and Cable wire ).
Group insist the ``quality and efficiency`` principle, in accordance with the ``Made in China 2025`` and China the 13th Five-year Plan to make the Group 2016-2020 the Third Five-year Development Plan. Make efforts to enhance science and technology innovation and product R&D capability. Strengthen the investment for new product R&D. Facing the well-known electrical equipment manufacturing enterprises to realize ``change for manufacturing to create``. Brand position is ``different fields to implement a dedicated, exclusively for the product``. Market positioning is ``Stabilize the end user, develop the high-end user``. Corporate positioning is ``internet + trade + production``. Improve management and technical level. To ensure product quality, create brand and corporate culture. Do the leading manufacturer of winding wire in the industry.
Raw Material For Smelting : Copper Rod / Copper Bar/ Aluminum Rod

Drawing Rolling :Wire From Copper Rod

Annealing : High Temperature resistance

Japanning : Wire covered Polyester

Finished Product : Enameled Copper Wire

Detection :Check the finished product

Package : PT25/60/90/200 or Wooden Spool

Shipping : Container
1. Small transformers, linear motors, relays, solenoids, small motors, clock coils, watch coils, magnetic heads Microwave transformers;
Windings with light weight, high conductivity, good heat resistance;
Winding used for high frequency signal transmission
Enameled wire used in small-motor rotor winding .etc.
Magnet wires used in monitor deflection coil;
Magnet wires used in degaussing coil;
Other special magnet wire.
2. Automotive sensors and coils as relais and ignition coils
3. Generators, dry-type or oil-immersed.
4. Anti-explosion motor, air-conditioner compressor, washing machine, Magnetic wire used in High Frequency transformer, common transformer, inductance coils, electromotor, household electromotors and micro-motors;
5. Military and space applications.
Normal Packing :Plastic bobbin (PT25 / PT60 / PT90 / PT200)+Carton+Pallet / Wooden box
Wooden spool (250*500/250*400/250*600 )+Wooden box
Outer packing: wooden spool and wooden case or According customers' special requirement.
Free samples are available.(100-150 cm is free)




Price depends on the size of clients' order and excellent quality.

Advanced Technology & Management with senior professional team.

Strong production ability and shipment on-time.

Supply you nice after-sale service & technical guidance.